A thousand years of history
With more thousand years of history, this big classified as "Historic Monument", stony vessel, invites you to travel in the time. The long history of the castle leaves on its walls the tracks of its occupation.
The castle as a fortress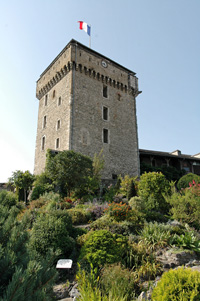 During the conquest of Gaul, the Romans must have been the first to take advantage of the strategic position of the rocky outcrop.
In the Eleventh and Twelfth Centuries, the almost impregnable fortress was the lordly residence of the Count of Bigorre
It then became a stronghold, from which to control the routes in the foothills of the Pyrenees that were disputed by the various princes, who were the policy-makers in the South of France. The population of Heavy which is entitled of refuge to the castle was saved during the various conflicts as the Albigeois Crusade or the wars of religion.
In the Fourteenth Century, it was permanently extended with a system of interlinking curtain walls and the construction of the keep that dominated three other towers that have since disappeared.
The castle as a prison
In 1590, in the reign of Henri IV, the castle became a royal domain. In the Seventeenth and Eighteenth Centuries, it was known as the "Bastille des Pyrénées", thanks to its new role as a prison for the king's opponents.
In the same time, the role of fortified town is given up. A governor manages a military garrison to protect the territory.
In 1685, Vauban, the great architect to King Louis XIV, proposed improvements that were only partially realised by his successors.
In the Nineteenth Century, military engineers transformed the castle into barracks, giving a new allure to military architecture and adding new buildings, notably the magazine.
The castle as a museum
In 1894, the city of Lourdes buys the castle, displaced militarily and has for ambition to transform him into museum.
The Pyrenean Museum saw the light of day in 1921 sunder the initiative of Louis and Margalide Le Bondidier. Passionate about the Pyrénées, they gathered together collections about the history and culture of the mountain people from the end of the Eighteenth to the start of the Twentieth Century. They were driven by a desire to create a vast regional museum for the entire Franco-Spanish chain where "nothing Pyrenean must be foreign to us".